Jury considers verdict in 'terrorist cookbook' trial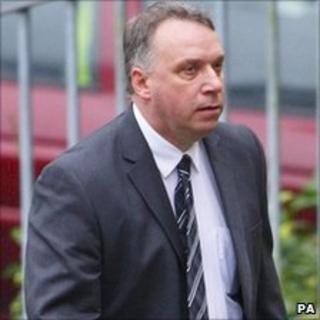 A jury has retired to consider its verdict in the case of a man accused of publishing a "terrorist handbook" that explained how to make bombs.
The prosecution alleges Terence Brown's book, named after the 1970s Anarchist Cookbook, could have been used by terrorists to commit atrocities.
Mr Brown told jurors he wanted to make money and believed terrorists could access such material freely online.
Mr Brown, 47, of Portsmouth, denies nine charges under terrorism laws.
During the trial the jury was told several thousand of the CDs were sold worldwide for $35US (£24) each.
'No checks'
The prosecution said Mr Brown was not sympathetic to terrorists.
However the jury was told there was a context to the time he was selling the book and that centred around the World Trade Center attack in 2001, the Bali bombings in 2002, the Madrid train bombs in 2004 and the London bombings in 2005.
During his defence Mr Brown told the court his primary motive for making the book was "to make money".
He told the jury: "I never thought any terrorist would use my product or website. A terrorist would mistrust my website."
The court heard Mr Brown made no checks on who was buying the discs and accepted cash, and would destroy the order to safeguard buyers' anonymity.
Under the terms and conditions, the website said that anyone who was a member of a terrorist organisation should not order the discs.
Mr Brown denies seven counts of collecting information that could have been used to prepare or commit acts of terrorism under the Terrorism Act 2000, two counts of selling and distributing the information under the Terrorism Act 2006 and a further count under the Proceeds of Crime Act.