Portsmouth community centre opens outdoor art gallery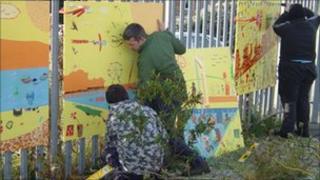 A community centre in an 'isolated' area of a Portsmouth housing estate has installed an outdoor art gallery.
Local artists painted outlines of local views and landmarks on 18 one-metre square boards which were added to by residents during workshops.
Organised by the estate's wardens, 60 people took part in the two-year project at the Highslopes Centre.
Community warden, Carey Warden, said: "It did look a little bit like a prison, this just softens it."
She added: "There is that sense of isolation here. It really does make it look so much brighter and child-friendly."
The boards have been attached to the metal security fencing surrounding the building.
The western part of the estate, where the centre is sited, lies on the southern slopes of Portsdown Hill, at the northern end of Portsmouth Harbour
Opened in 2008, it replaced a scout hut which was destroyed in an arson attack by vandals.