Queen Alexandra Hospital expects to make 'more cuts'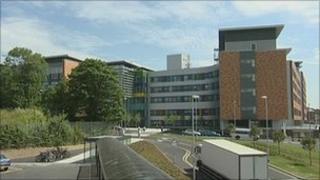 Further savings and job losses are expected at a multi million-pound hospital which opened 18 months ago.
The £256m Queen Alexandra Hospital in Cosham was rebuilt using private finance and opened in July 2009 but has already cut 700 jobs and closed wards.
Chief executive Ursula Ward said £30m savings would be made from April with job losses not being ruled out, but said patient services would not be cut.
She hit back at her critics, saying she was "up for the challenge" of the job.
It comes after the hospital, run by Portsmouth Hospitals NHS Trust, admitted its financial situation was "challenging" but said it was on course to save £29m this financial year.
However the hospital will still be £6m in the red as it had been told to make total savings of £37m over the last financial year from overall budget of £430m.
It recently approached Southampton General Hospital over a possible merger but was turned down.
'Really focused'
Ms Ward said: "We have been working over the last four or five months in developing the plans in terms of how we are going to take out some of that money.
"I have always said that I couldn't guarantee that further jobs losses would not occur.
"We will make those efficiency savings through improving our own internal efficiencies delivering care in different ways but it's not about cutting services for patients.
"I have put a lot of effort into this organisation in the last few years and I want to see it succeed."
Since it opened 18 months ago, about 100 of the hospital's 1,200 beds have been closed, leaving three wards empty, including its G5 unit, which offered care to terminally ill patients aged over 65.
The 700 job cuts, mostly clerical and admin roles, have been achieved by not replacing staff who left over the past 18 months. The hospital has about 6,200 members of staff.
An all-party group of M's met on Wednesday to discuss renegotiating the hospital's private finance deal, which currently costs the trust £43m a year.
Private Finance Initiatives (PFIs) are a way of funding public projects with private capital, with the trust repaying the debt for years to come.
The PFI at Queen Alexandra is run by the Hospital Company, which is made up of Carillion and Royal Bank of Scotland.