Bible reading marathon as Authorised Version turns 400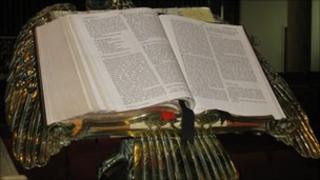 An Aldershot church is holding a Bible reading marathon to celebrate the 400th anniversary of the first authorised English version of the book.
Members of Holy Trinity Church will read aloud all 1,200 pages of the Bible over six days.
The book will be read through from Genesis to Revelation in 12-hour stints between 0900 - 2100 GMT.
So far 60 people have signed up to take part in the reading which will use the new international version of the Bible.
Vicar George Newton said: "Some of the English used in 1611 is a little difficult to understand today, so the reading at Holy Trinity will be from a more recent translation.
"The Bible provides the foundation for Christian understanding and belief. It is amazing how after all these many centuries, the words of the Bible still have an authority and power."
The King James Version of the Bible, first published in 1611, is the most widely published text in the English language.
It was written by 47 scholars, all members of the Church of England.
The volunteers will begin the anniversary read-through on Monday 28 March.