Power plans proposed for Eling Tide Mill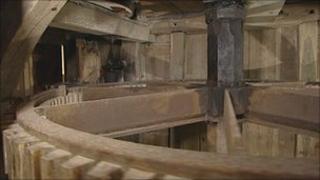 A waterwheel at a Hampshire tide mill could be converted so it can produce green electricity.
Double tides every 24 hours will enable the wheel in the ancient mill to generate electricity for up to 10 hours, enough to power a row of houses.
The Eling Tide Mill sits on a dam across a tidal river on the edge of Southampton Water, the current wheel is used daily to mill wholemeal flour.
The energy generated would be sold back to the National Grid.
Derek Biggs, Totton and Eling Town Council said: "Tidal power is very much underestimated.
"This is a really good project, it may be small-scale but it is a very reliable source of power."
Subject to a lottery grant, the project which includes plans for a complete refurbishment of the site would cost £1m.
It is one of the few remaining water-driven mills, and is thought to be the only fully working and productive tide mill in the United Kingdom.
The site has housed a mill for more than 900 years.