Southampton one-eyed rescue dog Dudley at Crufts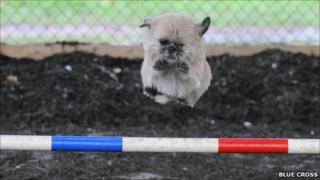 A one-eyed rescue pooch has proved you do not need a pedigree to be a top dog at the world-famous Crufts.
Pug-Lhasa-cross Dudley, who stands at a foot high, showed off his skills as part of the agility course at the NEC in Birmingham.
The five-year-old was rescued by the Blue Cross animal adoption centre in Southampton where he lives.
Owner Lara Alford, deputy centre manager, said: "I could see he had loads of energy."
Agility team
The stub-nosed dog suffered an infection before he was born which led to him developing one small eye which he could not see out of.
On advice of vets it was removed when he was a puppy.
He was brought in to the rescue centre after having two previous owners.
Dudley was adopted by deputy manager Ms Alford when he was 14-months-old.
The pair performed together as part of a rescue agility team at the world-famous dog show on Saturday morning.
"When Dudley does agility, I become his second eye," Ms Alford said.
"I have to stick on the left side of Dudley so he can see me all the time and follow my commands, otherwise it is like he is running around blind.
"It means we sometimes have to do the course the opposite way round so he can see where I am but it certainly doesn't slow him down."