Probe after fire destroys three buses in Chandlers Ford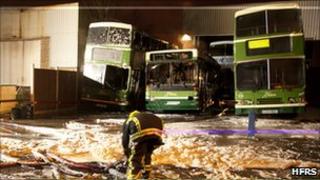 An investigation has been launched after three buses were destroyed by fire on a Hampshire industrial estate.
Crews were called after flames and smoke were spotted coming from Monks Brook Industrial Estate in Valley Park, Chandlers Ford, on Saturday evening.
About 20 firefighters tackled the blaze and prevented the fire from spreading to an adjoining two-storey building.
Two double deckers and a single decker were destroyed in the fire which is being investigated by police.
It is not yet known what caused the fire.
Station manager Chris George said: "The swift actions of our fire crews prevented this incident from becoming far more serious.
"There were three other buses that were driven off the site by fire service personnel to limit the damage, and there were also high-value vintage buses parked at the side of the building, which were protected by the fire crews and saved from the blaze."