Military staff attend Farnborough jobs fair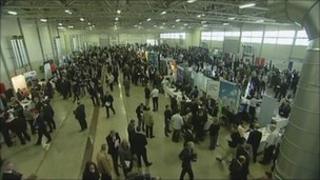 More than 1,000 servicemen and women have attended a careers fair in Hampshire to help them prepare for a wave of armed forces redundancies.
A reduction in government defence spending means about 17,000 military posts will be cut over the next four years.
More than 100 business exhibited at the Armed Forces Employment Fair, held at the Five venue in Farnborough.
The event was supported by Hampshire County Council.
The Army is to lose 5,000 personnel, there will be 3,300 redundancies in the Navy, while the Air Force will cut 2,700 posts.
Warrant officer Ben McNamara has been a soldier for 24 years. He said: "I should imagine there's far more people in this room than vacancies behind the tables."
Hampshire is home to 12% of the UK's armed forces.