Hampshire's school breakfast clubs face funding issues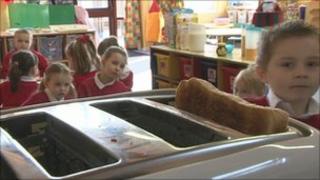 Early-morning school "breakfast clubs" in Hampshire are proving so popular they could pose a funding dilemma for head teachers.
Almost all county council schools offer clubs while places in Southampton have doubled to 947 in four years.
There is concern that budget savings will threaten clubs many see as vital for pupils and parents.
Head teacher Anne Steele-Arnett said they were "essential components of modern social and educative care".
At Shirley Warren Infants School in one of the most deprived areas of Southampton, children are dropped off as early as 0700 GMT for breakfast of cereal, fresh fruit and scrambled eggs.
Teaching assistant Michelle Allan said: "It gives children a nice social start to the morning. They are starting school comfortable, happy and healthy."
Breakfast clubs are increasingly relied on by parents who need to work longer hours, or start work earlier.
Michelle Allan said: "It can be vital - the difference between a family being able to access work or not."
'Very useful'
A breakfast club is a lifeline for computer engineer Matthew Sturrock who has two children.
He said: "It is very useful, otherwise it'd make it very difficult in the morning. I have to get to work at nine, and my wife even earlier."
Many schools opted to create breakfast clubs with funding they received through the then government's Extended Services programme in 2005.
About £680m was committed for extra-curricular activities to make the school day longer.
With that funding running out, many clubs are having to be paid for out of general school finances or alternative sources of funds.
Education authorities insist it is down to individual schools if and how they want to fund breakfast clubs.
The Munchies Club at Fairisle Infant and Nursery School in Southampton has already had a lottery grant and parents pay £2 per session.
However head teacher Susanne Ottens said there was pressure on the school budget. She said: "If it's being cut, we'll have to think very carefully where we make the cuts. I hope it doesn't come to losing it.
"We've got this far and it would be a shame to let it go. We can see the value it adds to children's and families' lives," she added.