Portsmouth schoolboy's starring role in Olivier musical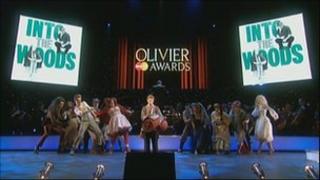 A 13-year-old schoolboy from Portsmouth, Hampshire is celebrating his role in an Olivier winning musical.
Eddie Manning played the role of narrator in Into The Woods which picked up the Best Musical Revival award.
The young actor took centre stage to perform a routine from the show at the televised awards ceremony in London.
He said: "It was really nerve-wracking. At the after-party, Patrick Stewart who was in Star Trek said 'well done' to me because he'd watched it."
Stephen Sondheim's Into The Woods was staged by the Regent's Park Open Air Theatre.
'Hard part'
The fairytale musical was set against a backdrop of trees and performed on a labyrinthine set of ladders and walkways. The young actor performed in front of up to 1,240 people in the outdoor auditorium.
He said: "It was a hard part to play because the set was really big, and you have to climb up loads of stairs, so it was really tiring."
Eddie began his acting career aged six after joining drama school at Portsmouth's Groundlings Theatre Company.
The theatre's artistic director, Richard Stride said: "It was a huge risk for the production company to take on such a young actor to play what is a lead role - it's a part that really focuses the whole production.
"For a young chap of his age to have the concentration to be on stage all the time was amazing."
Eddie has asked the show's producer if he can take the award to school for show and tell. "I'm a bit nervous because someone might drop it," he said.
The musical's 80-year-old American composer and lyricist Stephen Sondheim, also received a special prize at the ceremony in recognition of his contribution to theatre.
The annual Laurence Olivier Awards, honouring achievement in theatre, opera and dance were presented at the Theatre Royal in Drury Lane, central London.