Isle of Wight suicide man feared wife's affair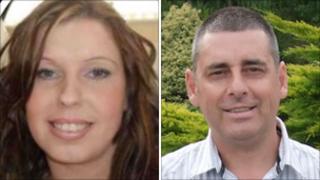 A mother was strangled by her husband who then hanged himself in their Isle of Wight flat because he feared she was having an affair, an inquest has heard.
Barry Harrison, 47, and his wife Amanda, 34, were found inside their flat in Shanklin, in August last year.
Their sons, aged three and five, had been in the flat with their dead parents for at least 24 hours.
The coroner recorded a verdict of unlawful killing for Mrs Harrison and suicide for her husband.
Mr and Mrs Harrison, who met while working at the Peugeot car plant in Coventry, had moved to the Isle of Wight after they were made redundant and had their home repossessed.
Both suffered from depression brought on by their financial difficulties but Mr Harrison had found work as a fruit picker and his wife as a sales supervisor at a Co-op store, the inquest heard.
Maureen Cannon, who had known the couple from when she lived in Coventry, said Mrs Harrison told her she was having an affair with a 19-year-old customer called Alex Harmer-Wood.
"She had been seeing him for two weeks. I was very surprised. She felt he lifted her up," she said.
'Seemed happy'
Mr Harmer-Wood said in a statement read to the inquest that he had not had a sexual relationship with Mrs Harrison.
He said that he had gone for a drink with her but when he found out her age, that she was married and had children, he was not interested in taking things further.
"I began to be worried Amanda was stalking me," he said.
The inquest heard that in the weeks before the deaths, Mr and Mrs Harrison had decided to spend three weeks apart and both left the flat.
While away, Mrs Harrison had allowed Mr Harmer-Wood to stay in their flat with his girlfriend who was visiting from Germany.
But Mr Harrison returned early and found Mr Harmer-Wood and his girlfriend asleep in his bed, the inquest heard.
A couple of days later Ms Cannon asked her sister to check on the Harrisons after Mrs Harrison failed to answer her phone.
Pat Cannon, who works as a manager for the block of flats, found the couple dead.
Their sons, Owen, aged three, and Aiden, five, told her "mummy and daddy are asleep".
Hugh Calloway, assistant deputy coroner for the Isle of Wight, recorded a verdict of unlawful killing for Mrs Harrison and suicide for her husband.
He said: "Unfortunately fate dealt a fairly cruel hand to Barry and Amanda.
"They seemed incredibly happy when they moved to the Isle of Wight, it seemed to be the fresh start they both needed but Barry found it very difficult to find work that paid well."
Mr Calloway said Mr Harrison's first marriage had ended in divorce after his wife had an affair.
He said: "He had a fear of history repeating itself with his wife Amanda.
"This, combined with the money problems, appears to have put an impossible strain on Barry and the marriage.
"The actions which followed appear to be totally out of character for Barry and we will never fully understand why a person like Barry, who on the surface appears to be a decent hard-working person, would behave in the way he did."