Hampshire fire team end Japan quake searches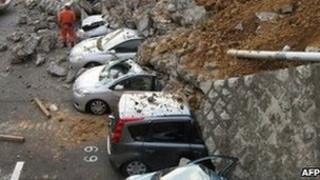 A team of rescue specialists from Hampshire who flew out to help victims of the Japanese earthquake and tsunami have ended their efforts.
The team, which included four firefighters and a search and rescue dog, failed to find any survivors in the towns of Ofunato and Kamaishi.
Heavy snowfall and falling temperatures led the UK and US rescuers to announce the end of their mission.
The Hampshire team are due to arrive back in the UK on Saturday.
Nick Maskery, who is a doctor from Southampton working with the UK team, said: 'The whole area is totally devastated.
'Smashed to pieces'
"Chances of survival in these buildings are very slim, they'd have to be in a space, above water and uninjured.
"I went to the Sumatra quake, but the degree of destruction was nowhere near.
"There are undamaged houses next to complete devastation.
"Haiti was similar in some ways but houses here have been smashed to pieces, with debris tossed around. We've seen boats stranded far inland."
The rescuers joined a 63-strong UK team which was mobilised in the aftermath of the disaster.
The confirmed death toll from the quake, which triggered the tsunami, has risen above 5,400.
The team recently returned from helping with the aftermath of the Christchurch earthquake last month.
Their efforts have been co-ordinated from the headquarters of Hampshire Fire and Rescue Service in Eastleigh.