Investigation into arson attacks on Farnborough schools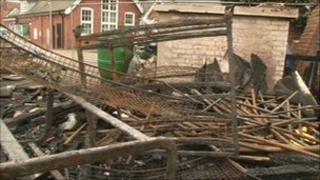 Arsonists are being hunted after a spate of fires at schools in a town in less than a fortnight.
An outhouse containing sports equipment at North Farnborough Infant School was set alight during the early hours of Tuesday just metres from a gas tank.
The school said the blaze caused about £30,000 damage.
Firefighters said there was a "real risk" flames could have spread to the main buildings themselves and an investigation has been launched.
'Lives at risk'
The blaze follows similar attacks on Robert Tinsdale School and Belle View Primary School last week.
Ben Smith, station manager of Rushmoor Fire Station, it was only a matter of time before crews were called to a major school fire.
"These fires seem to be getting worse each time.
"The concern is that if one of these fires escalates even further and spreads into school buildings we will have a major fire.
"These deliberate fires cause considerable disruption, cost huge amounts of money and put lives at risks," he said.