Prince Harry in Portsmouth for Iraq and Mary Rose visit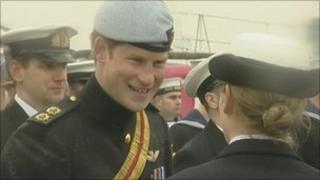 Prince Harry has visited Portsmouth naval base to award medals to sailors who have served in Iraq.
He presented Operation Telic service medals to the companies of mine clearance vessels HMS Grimsby, HMS Middleton and HMS Shoreham.
The prince was given a tour of minehunter HMS Cattistock and met naval personnel and their families.
He went on to lay the foundation stone for the new £36m museum housing Henry VIII's flagship, Mary Rose.
The event was Prince Harry's first medal presentation.
Able Seaman Grant Mallion, of HMS Shoreham, from Cambridge, who was celebrating his 20th birthday, said the prince talked to him about the Six Nations rugby tournament and England's chance of winning.
He said: "It was a great honour to receive my medal from Prince Harry.
"It was my first deployment and it was exciting to work in quite different conditions."
'Mother figure'
Leading Seaman Sam Dixon, 24, of HMS Grimsby, from Plymouth, Devon, said: "I was immensely proud to receive a medal from Harry because not everyone gets such an opportunity.
"He asked me if I was a mother figure on board as the senior wren and I said 'of course'."
The prince, who is Commodore-In-Chief, Small Ships and Diving, also presented medals to the deployed Mine Warfare Battle Staff.
At the site of the new Mary Rose Museum pupils from Haslemere Preparatory School buried a 2011 time capsule in the floor of the complex which is due to open in autumn 2012.
This year marks the 500th anniversary of the launch of the Mary Rose. It sank in 1545 and was raised from the Solent in 1982 in an ambitious project backed by the Prince of Wales.