Isle of Wight Festival bid for 90,000 crowd capacity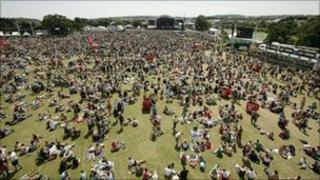 Organisers of the Isle of Wight Festival are hoping to increase capacity for an extra 20,000 people.
The three-day event, between 10 and 12 June, is allowed to hold 70,000 but promoters want that to go up to 90,000 for its 10-year anniversary this year.
Local councillor Geoff Lumley said if a licensing application was approved by the council the event would become "unbearable" for residents of Newport.
Foo Fighters, Kasabian and Kings of Leon are playing at the sell-out event.
As well as fans, extra space is needed for backstage crew and staff at Seaclose Park.
Promoters Solo have already submitted an application to the Isle of Wight Council under the Isle of Wight Act, which safeguards the council over clean-up costs for large events.
A spokesman for the local authority said it was yet to receive a licensing application but expected to receive one in the "near future".
The application must be submitted by 12 April - three months before the festival begins.
'Well managed'
Mr Lumley, who represents residents living in East Newport, expressed concern over the rise in numbers.
"I'm not against the festival at all, it's about the scale of it now," he said.
"We want a successful festival and I think it is.
"I think it's a step too far. I think many would see 90,000 would be pretty much unbearable."
Mr Lumley said there would be implications for ferry passengers crossing the Solent and on the island's transport system.
"It's managed pretty well by the promoter he does a pretty good job," he added.
"The festival creates quite a lot of inconvenience for the people of Newport."
Promoter John Giddings was unavailable for comment.