National Express apologises over stranded elderly man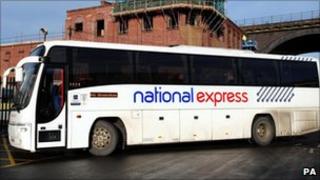 A bus company has sacked a driver and apologised for leaving an elderly Hampshire man stranded at a service station in December.
Eric Tomlin, 85, from Hedge End, got off a National Express coach to go to the toilet when it stopped in Exeter as the bus' own facilities were broken.
He said he felt "absolutely devastated" when the bus left without him.
Managing director Andrew Cleaves visited Mr Tomlin at home to apologise and offer him free travel for life.
Reported missing
Mr Tomlin had been travelling from Southampton to Plymouth to visit his wife in a retirement home in Devon when the bus made a stop at the Exeter service station.
Despite telling the driver he was going to the toilet as the on-board facilities were out of order, the coach left without him, but with his coat and mobile phone still onboard.
He said: "I told him I wouldn't be more than two or three minutes...but I saw the back end of the coach leaving the station. I thought 'what am I going to do now?'"
He was saved by David Gaskin, who took Mr Tomlin to his own home in Saltash and helped him contact his daughter who had reported him missing.
The company initially offered him £20 compensation.
Mr Cleaves told him National Express "hadn't looked after you at all well".
He said the company had changed its procedures to ensure passengers were back on board after a stop and to investigate complaints quicker. The case is also being specifically used in staff training.
After the apology, Mr Tomlin said: "I wish it hadn't happened to me. I just wanted a plain, simple coach ride."