Cargo ship stranded off the Isle of Wight coast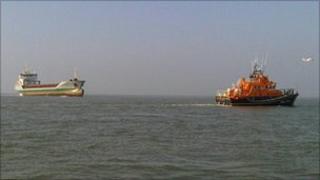 A 295ft (90m) cargo vessel with nine people on board has run aground off the Isle of Wight.
The Paula-C is on a shingle bank, near the Needles, but is not in any immediate danger, the Maritime and Coastguard Agency (MCA) has said.
It said there had been a big tidal range recently because of the proximity of the moon, which may have been a factor in the grounding.
The MCA was trying to organise for a tug to help refloat the ship.
A spokesperson said the Paula-C was "in ballast" and was not carrying any cargo. The MCA was first notified at 1300 GMT.
Nine crew members aboard the stranded ship have been pumping out some of the water ballast in a bid to make the ship lighter.
They may have to wait until the next high tide at 2200 GMT before the vessel can be refloated, the MCA said.
The Yarmouth lifeboat was standing by and there were coastguard shore teams maintaining a shore watch from the Isle of Wight.