Milford-on-Sea residents protest over HSBC bank closure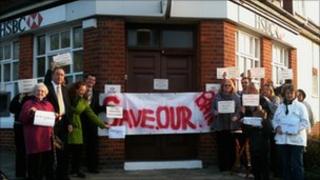 Protesters in a Hampshire village have started a campaign to stop the closure of their only bank.
Villagers staged a demonstration outside HSBC in Milford-on-Sea, which the bank has called one of the most underused braches in the country.
When the branch closes in June customers will have to travel to banks in Lymington and New Milton.
HSBC said the decision was made as it needed to "reflect changes in shopping patterns".
Mark Cummings, who has run the local newsagents for 10 years, said: "It's another nail in the coffin for small businesses.
"I have been here 10 years and it's just getting harder and harder to make a successful business."
'Statistical decision'
Campaign organiser Hugh Whitlock, a local solicitor, called the bank a "vital facility" for the community.
"If you take away this bank then I think it's going to be very, very damaging to this community and everybody who lives here and everybody who visits here.
"From my own personal experience, this branch is exceptionally busy and I think it's a decision made by statisticians and not by people who know what happens on the ground.
"To go into Lymington is just impractical, it's a nonsense for businesses and a nonsense particularly for our elderly clients."
The bank said it was investigating the possibility of leaving the cash machine in the village but moving it elsewhere.
"Milford-on-Sea is one of the most underused branches in the country," it said.
"We are working with the small number of customers who use the branch to help them reorganise the finances before the branch closes in June."