City cycle scheme bid from Portsmouth Council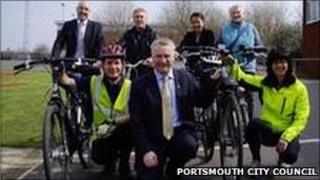 A Portsmouth-wide cycle hire scheme forms the centre of the city council's bid for £5m of government money.
If successful, a cycle scheme similar to that in London could be in place by 2013.
The plan is designed to reduce both traffic and Portsmouth's carbon emissions.
Funding would partly come from the government's £560m fund for local sustainable transport. It must also involve private investment.
The inclusion of business or voluntary groups in the project is designed to boost the local economy.
Leader of the Liberal-Democrat controlled council, Gerald Vernon-Jackson, said: "Our idea is for a cycle hire scheme aimed mainly at commuters.
"As well as being good for the environment, it would reduce traffic congestion and free up parking spaces."
Bikes would be available in popular city areas, such as shopping centres and stations.
The "race" for the cash was launched at Portsmouth's Mountbatten leisure centre cycle-track on Tuesday.
Other proposals in the bid include measures to improve bus punctuality and help for companies wishing to promote cycling.
Portsmouth is competing with other city councils for a share of the government money.