Minister called 'coward' in Southampton hospital visit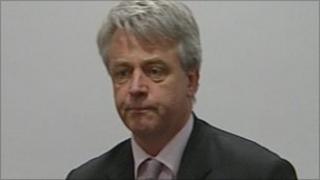 Health Secretary Andrew Lansley has been labelled a "coward" by campaigners during a hospital visit.
Paul Prior made the comment after he felt Mr Lansley had avoided his protest by using a back door during a visit to Southampton General Hospital.
The minister later arranged a meeting with those fighting to keep the children's heart unit at the site open.
Mr Lansley, who opened a research centre at the site, said he did not want a "snatched" conversation outside.
The unit could be closed under proposals as part of an NHS review.
Mr Prior asked Mr Lansley: "I am really curious to find out why you changed the entrance you came into?
"You've made heart children walk up three flights of stairs.
"I think you have disrespected parents and have been a coward."
'Proper conversation'
Plans have been drawn up for 11 units to be replaced with six or seven larger centres amid concerns expertise in children's heart surgery are being spread too thinly across the UK.
Three of the review's four options involve closing Southampton's unit despite it being rated second highest out of all the 11 centres providing the service.
In his response to campaigners, the minister said: "I had no intention of doing any of those things.
"My intention is not to have a snatched conversation in an entrance but to have a proper conversation now, which seems to be perfectly reasonable.
"I know the great work they do here. I want them to know that."
But he said the review was not being run by the Department for Health and urged people to comment on a public consultation.
He said he would look closely at the final decision and could intervene if he thought the wrong steps were being taken.
During the visit, Mr Lansley opened a new £9m research centre aimed at developing new treatments for respiratory disease.