HMS Gloucester's final homecoming to Portsmouth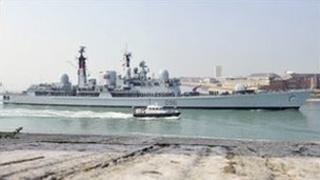 HMS Gloucester has returned to port for the final time at the end of its 25 years of service.
The ship's recent deployment to the South Atlantic was its last before its decommissioning in June.
The Duchess of Gloucester was in Portsmouth to say farewell to the ship she had launched in 1982.
Commanding officer David George said the duchess's presence "conveys to both the sailors and the families how valued they and their service are".
"The Fighting G", as the Royal Navy called HMS Gloucester, is a 210m (689ft) Type-42 destroyer.
It served in the Falklands and has had 15 captains.
Last year the destroyer was involved in a multimillion-pound drugs bust off the west coast of Africa.
The Duchess of Gloucester awarded the ship the 2010 Fleet Efficiency Award from the Royal Navy.
Before to its decommissioning, HMS Gloucester was sold on the Ministry of Defence auction website edisposals.com for about £2m.
The destroyer's final journey came a day after the former aircraft carrier HMS Invincible was towed away to be scrapped.