New Portsmouth-Bilbao ferry route to set sail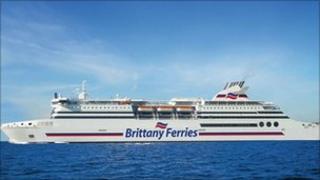 A new passenger and car ferry service between the UK and Spain is set to depart for the first time later.
Brittany Ferries has taken over the Portsmouth to Bilbao route formerly operated by P&O, which ended sailings in 2010 due to "unsustainable losses".
The first ferry on the twice-weekly crossing will leave at 2200 BST and is due to dock in Spain on Tuesday.
It will be Brittany Ferries' first new route in 25 years with the firm believing it can make a profit.
The Cap Finistere will take the place of P&O's Pride of Bilbao ferry.
Mike Bevens, from Brittany Ferries, said: "Bilbao has forged a reputation as a destination in its own right in recent years.
"As the numbers of air travellers from the UK to Spain have declined, we've witnessed a surge in demand for direct UK to Spain crossings.
"Our customers welcome being able to relax on a comfortable and spacious cruise-ferry and the freedom that having their own car brings."