Goshawk lays third egg in New Forest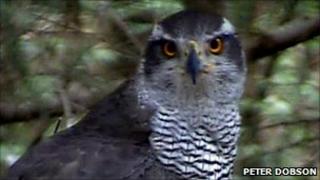 A rare bird of prey has laid a third egg in its nest in the New Forest.
The goshawk, nesting in woodland near Lyndhurst, produced its first egg last Thursday and then two more at 72-hour intervals.
The RSPB said a fourth and final egg could be laid in the nest on Saturday. All eggs would hatch in late May.
Once close to extinction, only 500 breeding pairs of goshawks are known to exist in the UK, with 20 of those pairs in Hampshire.
'Rare privilege'
RSPB information officer Therasa Paul watched the third egg appear on an online webcam set up to monitor the nest.
She said: "It was very exciting - she was sitting down at first, her tail was going up and down and then she got up and you could see the 'ripples' going through her body as the egg appeared. You could see her straining.
"It's a rare privilege to be able to watch birds of prey up close like this."
The birds can be viewed on the webcam which last year had more than a million visits, said Mrs Paul.
The nest is in an undisclosed location close to the Reptile Centre near Lyndhurst.
Last year, the same pair of goshawks produced four eggs, of which three hatched, but only two of the chicks survived.