Actress Celia Imrie launches £1m RNLI appeal in Cowes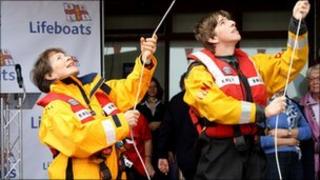 Actress Celia Imrie has launched a £1m RNLI appeal to create a new lifeboat station in her home town of Cowes.
The current Cowes lifeboat station is a small, temporary facility within Shepherds Wharf marina.
The RNLI plans to refurbish the old Custom House building, near the mouth of the River Medina, as it will reduce the launching time by four minutes.
Imrie appeared in Nanny McPhee and Calendar Girls as well as BBC One's Dinnerladies, alongside Victoria Wood.
She met crew and fundraisers at Cowes RNLI on Saturday.
Imrie said: "As a resident of Cowes, I greatly admire the work of the RNLI.
"The volunteer lifeboat crew members are truly wonderful, giving up their time and risking their safety to assist others in peril."
The RNLI has already purchased the old Custom House building in Cowes but now needs to fully refurbish it to turn it into a replacement lifeboat station.
Mark Southwell, Lifeboat Operations Manager at Cowes RNLI lifeboat station, said: "Where we're based currently the lifeboat is exposed to the elements and is in a location that is far from ideal in operational terms."