Southampton betting shop staff threatened during raid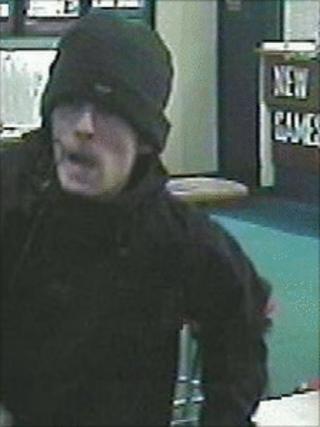 An armed robber who threatened workers at a Hampshire betting shop before making off with cash is being hunted by police.
The man told staff at Ladbrokes in Butts Road, Southampton, that he had a gun and ordered them to hand over money during the raid on Monday evening.
Staff were left shaken but unhurt after the raid in which the man escaped on foot.
Police have released a CCTV image of the robber in a bid to trace witnesses.
Detectives said the robber told staff he had a gun and pointed an object wrapped in a plastic bag at them.
No weapon was actually seen and no shots were fired.
Det Insp Charlie Rimmer said: "We have taken the positive step of releasing this image to the public at an early stage of the investigation in an effort to identify this person as soon as possible.
"I would like to stress that this is an isolated incident, though one that was clearly shocking and distressing for those involved."