No royal title for Osborne House, English Heritage told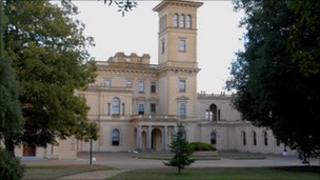 English Heritage has been told it cannot change the name of Queen Victoria's former palace Osborne House to include a royal title.
The name change to "Royal Osborne" was announced last month and the heritage body said it hoped people would "celebrate this royal association".
But it did not seek permission through the Cabinet Office to add the royal label to the Isle of Wight landmark.
A government spokesman said royal prefixes were "very sparingly" granted.
The new title had been expected to come into effect from 1 April. Some literature was already using the "royal" name.
'Confusion or offence'
A spokesman for the Cabinet Office said: "If any organisation wants to have the royal prefix it has to go to the cabinet and a decision is made - it is very sparingly granted."
English Heritage, the government's statutory adviser on the historic environment, claimed it had never been its intention to officially change Osborne House's name.
But last month a statement sent out by the organisation said: "We hope people will be delighted with the new name and will celebrate this royal association."
On Friday an English Heritage spokesman said: "We apologise if in our wish to communicate the importance of Osborne House, we have caused any confusion or offence."
The 342-acre estate, at East Cowes, was bought by Prince Albert and Queen Victoria in 1845. It was the couple's main residence with their nine children.
Queen Victoria died at the palace in 1901 after reigning for nearly 64 years.