Hampshire historical buildings could face 'fire sales'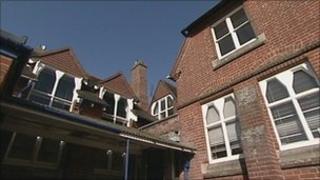 Increasing numbers of Hampshire's historical buildings could be sold off following public sector budget cuts, a pressure group has said.
The Society for the Protection of Ancient Buildings (SPAB) has warned of a "fire sale" of historical premises.
It has raised concerns over hasty sell-offs of buildings when property prices are low.
Public-funded bodies such as councils say selling unused old buildings raises much-needed funds.
SPAB was originally set up by Victorian designer William Morris to preserve medieval buildings but is now campaigning to save old buildings held by public bodies from decay and demolition.
Spokesman Philip Venning said: "The problem now is that there is a danger of a fire sale.
"They really want to get rid of them and save money. They are under huge pressure so they may be tempted to take very unsuitable offers.
"Alternatively they may just board them up and abandon them."
'Haunted properties'
Bedhampton's Victorian schoolhouse was an arts centre, but has been unused since a new complex opened in nearby Havant.
Conservative-run Hampshire County Council plans to sell it, although it will keep its listed status when sold.
Council leader Ken Thornber said: "We're under an obligation to sell unwanted assets.
"They were funded by taxpayers a century ago. So now we can recycle that money in extensions for schools and our roads."
There are examples of unused heritage buildings successfully coming back into use.
Haslar Hospital in Gosport was sold for £3m in 2009 and is to become a community village for older people. Lymington Infirmary sold for £10m and was converted into flats.
However with the current state of the property market, the SPAB has questioned whether authorities will get the best prices for their assets, and whether developers would be willing to take risks with expensive renovation projects.
Wymering Manor, thought to be Portsmouth's oldest house and alleged to be one of the UK's most haunted properties, has failed to sell at auction three times.
The Grade II-listed building is owned by the city council but needs repairs. Prospective buyers were told they would need to spend at least £150,000 to restore it to its former glory. It is now empty and unused.
However, Colin Wilkins from Savils estate agents in Southampton thinks the long-term prospects are positive.
He said: "Land and buildings are in short supply, any opportunity for renovation and regeneration is always welcome."
Learn more about Hampshire's historic buildings on the The Politics Show on Sunday at 1400 BST on BBC One and on BBC iPlayer.