Southampton commemorates Titanic 99th anniversary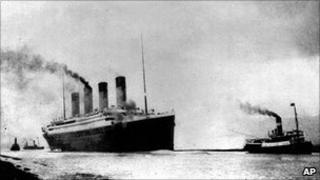 The 99th anniversary of the sinking of Titanic with the loss of 1,517 lives is being marked in Southampton.
More than 500 people from the city died when the liner sank after striking an iceberg in the North Atlantic on 15 April 1912.
Special events include a convention and walks around Titanic-related sites.
The Most Revd Alan Harper, Primate of All Ireland, will attend the annual commemorative service at St Mary's church on Sunday.
The White Star Line ship was built in the Harland and Wolff shipyard in Belfast. It was hailed as "unsinkable" when it left Southampton on its ill-fated Atlantic crossing.
Next year, the centenary of the disaster is due to be marked with the opening of the new Sea City museum, which is currently under construction in Southampton.