Deaf cat shot with pellet gun in Wolverhampton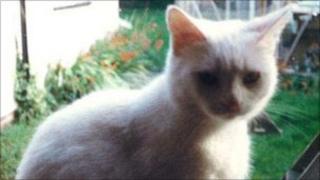 A 14-year-old deaf cat has been shot with a pellet gun in Wolverhampton.
JimJim returned home to Belmont Road in Penn looking "subdued" and covered in blood at about 1100 BST on Wednesday, said her owner Kate Hartland-Westwood, 57.
JimJim underwent surgery on Wednesday afternoon after an X-ray showed a pellet lodged in her small intestine.
West Midlands Police believe JimJim was shot near her home as she was unable to walk very far prior to the incident.
'Mindless cruelty'
Ms Hartland-Westwood said she wanted other cat owners to be aware of the crime.
"I cannot understand this level of mindless cruelty," she added.
Pc Phil Upton said: "We are working hard to try and establish who is responsible for JimJim's injury."
JimJim is expected to make a good recovery and due home on Saturday.