Petition to save Hampshire's Sure Start centres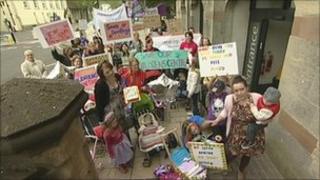 Campaigners fighting to stop plans to merge Hampshire's Sure Start children's centres have handed a 22,000-signature petition to the county council.
Under its proposals, 28 of the 81 centres, which offer support for parents, could be merged to save £6m.
Dozens of people also marched through Winchester to protest as they delivered the petition on the last day of the public consultation into the plans.
The council has said it will not close any centres.
There are currently 81 separately managed children's centres in the county - though some "centres" are merely offices which organise activities in a various locations.
Some of them offer services from a number of different sites, such as village halls, community centres, libraries.
By restructuring some of the centre catchment areas and merging them, the council hopes to focus services on more deprived communities while reducing costs.
However, parents are worried that with fewer staff and less money, the overall service will suffer.
Councillor Roy Perry said: "What we're trying to do is to save the children's centres and at the same time save some money. We have to put those two together."
On Monday, the campaigners will bring their petition to 10 Downing Street.