Deer rescued in Winchester after getting stuck in gate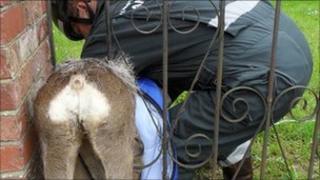 A deer had to be rescued by firefighters after becoming stuck in a wrought iron gate in Hampshire.
The roe deer became trapped by its hips in the gate in St Cross Road in Winchester on Friday afternoon.
Hampshire Fire and Rescue animal rescue specialists put a sleeping bag over the animal to calm it before using a car jack to spread the bars of the gate.
It was taken to nearby St Catherine's Hill Nature Reserve before being released back into the wild.
Rescuer Anton Phillips said: "I am pleased to say that other than being stunned by the ordeal and receiving grazes on its flanks the roe buck was unharmed."