Bendicks chocolate factory moves production to Germany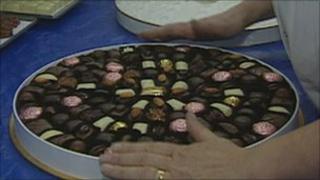 A Hampshire-based chocolate factory has confirmed it will move production to Germany with the loss of 84 jobs.
Storck, makers of Bendicks mint chocolates, blamed the decision on a decline in the market and said it was the right move in order to protect the brand.
Thirty marketing and sales posts will remain at the site in Winnall, near Winchester.
Steve Brine, Conservative MP for Winchester, called it a "cruel blow".
Thomas Huber, managing director of Storck, said the move was a "difficult decision".
"Despite our best efforts to re-launch the Bendicks brand and diversify into new flavours and categories, we have not been able to drive the critical mass to support an independent manufacturing plant for Bendicks products only in the UK," he said.
"We have conducted a total review of the Bendicks business to identify a plan that will be profitable and sustainable.
"This is possible, but manufacturing efficiencies are key to the success of the business and the brand presence of Bendicks in the UK.
Safeguarding demand
"Therefore a consolidation of our plants is the only viable option."
The 84 affected workers will continue to be employed until the end of July.
Ian Woodland, regional organiser for Unite, said: "The Bendicks factory is really a victim of the weak labour laws we have in this country which allow companies to pull out very cheaply.
"It has left our members on the scrap heap. It is going to be very difficult to get another job.
"The competition is going to be very, very difficult."
Winchester MP Mr Brine said: "Clearly this is not at all a surprise following the figures Storck management shared with me and the minister last month but it's a cruel blow nonetheless for the workforce who have given so much to this company over many years.
"I am really sad Bendicks can't make this plant work but it's important we all work with them positively going forward to keep the Storck head office jobs in Winchester for the long-term."
Bendicks was founded in 1930 when Oscar Benson and Colonel "Bertie" Dickson opened a small confectionery business in Kensington, London.