Wife's 'regret' at fatal husband attack in Gosport flat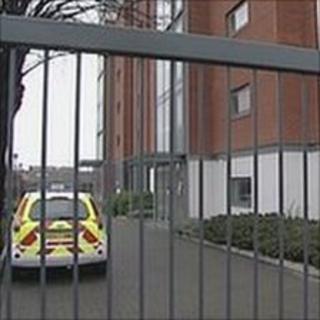 A woman accused of murdering her husband told a jury of her "everlasting regret" that she stabbed him.
Jennifer Parkinson, 65, said she never intended to seriously hurt her husband Michael, 63, when she stabbed him in an argument over their buy-to-let empire.
The couple rowed at their Gosport flat in Hampshire in 2010 after Mr Parkinson blamed her for getting them into financial problems, the court heard.
Mrs Parkinson admits stabbing her husband but denies murder.
Three stab wounds
She told Winchester Crown Court her husband said: "Jennifer, why did you get us into this?"
He was referring to the 20 or so properties they owned, the court heard.
She told jurors the comment had upset her and went back on a promise not to blame each other over any money worries.
She said she and her husband had been drinking when the row on 22 March last year got violent, with her biting him on the arm and him putting her in a head lock.
She ran into the lounge followed by Mr Parkinson and she told the jury she brandished a knife at him.
"I wanted to stop him from shouting. I thought it would bring him to his senses.
"Instead of stopping him in his tracks, he started swearing and coming towards me.
'No time'
"I was stepping backwards. He bent my wrist back and I dropped the knife," she said.
"There was no time to make any rational decision, but yes to my everlasting regret, I picked it [the knife] up again."
Crying, she said: "I think it was all the stress that came out in that motion. I will never forget what I have done."
The court has already heard that Mr Parkinson, who had taught in Rutland, suffered three stab wounds.
The most severe wound entered his body below his left arm, fractured a rib, punctured his lung and damaged his aorta, causing "catastrophic" blood loss from which he died in hospital, the court has heard.
Mrs Parkinson denies she intended to murder her husband but admits stabbing him. She said she did not act out of self-defence.
The trial continues.