Portsmouth's QA hospital set to cut more jobs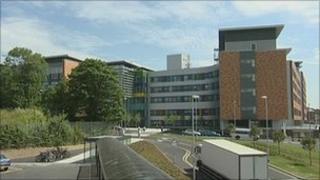 The Queen Alexandra Hospital in Portsmouth has announced a further 99 jobs are to go in a bid to save money.
A £256m Hampshire hospital, which opened 18 months ago, has already cut 700 jobs and closed 100 beds.
Run by Portsmouth Hospitals NHS Trust, it now needs to save another £30m and staff have been told to expect 99 redundancies.
Managers hope most of the cuts will be achieved through voluntary redundancies.
The Queen Alexandra Hospital in Cosham was rebuilt using private finance and opened in July 2009.
A number of the jobs are said to include management and senior posts.
'Tough decisions'
Ursula Ward, chief executive of Portsmouth Hospitals NHS Trust, said: "The trust, along with many other parts of the NHS, continues to face real financial challenges and active steps are being taken to ensure our sustainability.
"Last year we achieved efficiency savings of £31m to end the financial year in a break even position. However whilst this has helped us, the trust has a further £30.5m cost savings target in 2011/12.
"This challenging target has forced us to make some further tough decisions and re-evaluate our staffing numbers.
"Workforce costs account for around two-thirds of our financial outgoings and we need to look for further savings from these outgoings."
She said a 30-day consultation period would be held and the trust would work closely with trade unions and staff representatives.