Woman pedestrian dies in Fleet Royal Mail van shop crash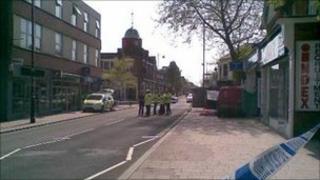 A pedestrian has died when she was hit by a Royal Mail van as it crashed into the front of a shop in Hampshire.
The vehicle left the road at about 1220 BST in Fleet.
The 35-year-old woman pedestrian, from Scotland, died from her injuries at the scene of the crash in Fleet Road, near the junction of Victoria Road.
The driver of the van, a 48-year-old man, has been arrested on suspicion of causing death by careless driving. He is in hospital with minor injuries.
A cordon is in place and the road closed.
Hampshire Fire and Rescue Service said crews were called to the crash after the light goods vehicle left the road and went on to the footpath.
A Royal Mail spokesman said: "The full circumstances of the incident are the subject of a police investigation which we are fully co-operating with.
"Our concern is for all those involved in this incident."