Mary Rose artefact on space shuttle Endeavour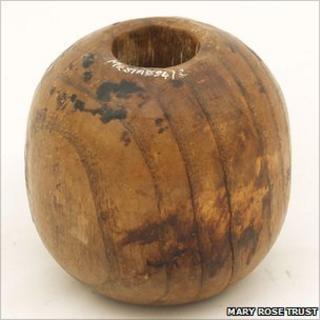 Part of the Mary Rose sail mechanism is being taken into space on the final flight of US space shuttle Endeavour.
The 3in (7.5cm) wooden ball from Henry VIII's flagship, raised from the Solent in 1981, is on board during the 14-day mission.
The artefact was given to a Nasa crew during a visit to Portsmouth in 2010.
The Mary Rose Trust's John Lippiett said: "We are thrilled that she will be making history once more on the final mission for Endeavour."
Endeavour is due to blast off for the International Space Station from Kennedy Space Center in Florida at 2047 BST.
The wooden ball, known as a "parrel" continues a tradition of astronauts taking commemorative objects into space.
Mr Lippiett said: "The Mary Rose was as revolutionary in technological advances 500 years ago as the space shuttle was in the early 1980s.
"Both have helped pioneer exploration and advance the sciences."
A new £36m museum complex to house the hull of Mary Rose and display the artefacts found within the wreck is due to open in autumn 2012.