Tweeting Endeavour's final mission from Nasa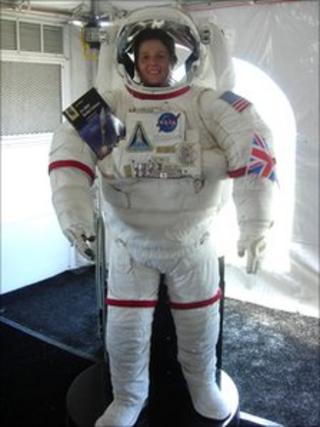 A Hampshire space enthusiast is one of 150 people taking part in a gathering arranged through social networking site Twitter to cover the final launch of space shuttle Endeavour.
Dr Lucy Rogers from Havant is one of three people from England at the Nasa "tweet-up" in Florida.
The event will culminate with the launch of the shuttle, the US's youngest reusable space plane.
Despite lift-off being delayed for three days, she hopes to continue recording her experiences at the Kennedy Space Centre on the microblogging service.
The planned launch on Friday was postponed at the last minute due to a technical problem. The next attempt is planned for Monday at 1433 local time (1833 GMT; 1933 BST).
Writing on Twitter, Dr Rogers said: "We get to wave at the crew as they drive by and on the way to launch pad."
Based in a "tweeting tent", 3.1 miles (4.9 km) away from the launch pad, Dr Rogers has been able to meet her blogging friends.
'Better offer'
She said: "They are all very similar to their virtual persona, but they do not tweet with their accents."
Dr Rogers added: "Astronaut Clay Anderson asked why I was not at the royal wedding - I replied I had a better offer."
The space fans have taken part in behind-the-scenes tours, talks and question-and-answer sessions with astronauts, senior Nasa scientists and engineers.
In another tweet, Dr Rogers said: "I just held some aerogel".
It is the world's lightest solid which at first glance looks like a hologram and is used to capture stardust.
In mid-March Nasa invited tweeters to apply for the once-in-a-lifetime opportunity to tweet from the final launch of Endeavour.
They received 4,100 registrations in 24 hours from which 150 Tweeters were picked at random. They are tweeting to more than 3.7 million combined followers.