Boat rescued off Isle of Wight after pump failure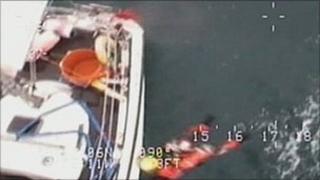 A sailing boat carrying four people had to be rescued after it began taking on water in the English Channel off the Isle of Wight.
The ketch, called Border Collie, sent out a distress signal on Sunday afternoon when its bilge pump failed.
The Solent coastguard helicopter lowered a winchman with a replacement pump to help the stricken vessel.
The boat was escorted back to Bembridge by the town's lifeboat and arrived on Saturday evening, six hours later.
Lifeboat spokesman John Keyworth said: "It was quite a windy and lumpy day.
"Off the lifeboat station at Bembridge we were in the brunt of the nor'easterly that was coming in and you had a good metre swell there.
"Twenty-six miles south of the island, it was considerably worse than that."