Eighty firefighters tackle Havant thatch fire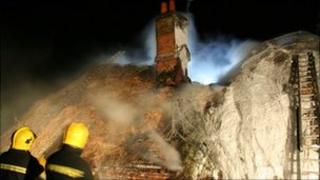 Up to 80 firefighters have tackled a fire in the roof of a two-storey thatched house in a Hampshire village.
Twelve fire appliances were called to Southleigh Road, Warblington after the fire broke out on Tuesday night.
Two adults, one child and two dogs were in the property at the time, but all were safely evacuated.
Extra crews and assistance from nine further fire stations were drafted in during the night.
The occupiers had attempted to put out the blaze in the thatch roof themselves with a hose before calling 999 just after 2046 BST.
Totally destroyed
The fire was extinguished after five hours.
The 18m (59ft) by 6m (20ft) roof of the thatched house was totally destroyed by the fire.
Tim Burgess from Havant Fire Station said: "This type of incident shows the devastating effects that a thatch fire can have.
"Upon our arrival we could see lots of heavy smoke in the vicinity, flames were visible in the thatch and the windy conditions were assisting the developing fire."
An investigation is being carried out to discover how the fire started.