Flying Lady's 100th anniversary celebrated at Beaulieu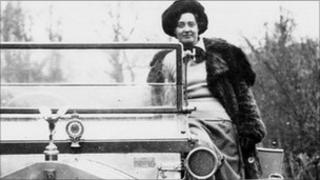 The love story behind the creation of the famous flying lady bonnet mascot, Spirit of Ecstasy, is being told in an new exhibition.
In 1909 motoring pioneer Lord Montagu asked artist Charles Sykes to design a mascot for his Rolls Royce Silver Ghost.
He came up 'The Whisper', inspired by Eleanor Thornton, mistress of the 2nd Baron Montagu of Beaulieu.
It depicts a woman in fluttering robes with a finger pressed to her lips.
The figurine was later developed into the Spirit of Ecstasy mascot which has adorned the radiator of every Rolls Royce since 1911.
Original bronzes
To mark the centenary, the tale behind the figurine, original bronzes and artworks will go on display in the family home of Palace House.
The Hon Ralph Montagu said: "We are delighted to be able to tell the story behind the Spirit of Ecstasy mascot, especially the part that my grandfather John Montagu and his Personal Assistant Eleanor Thornton played in bringing this iconic mascot to life."
Eleanor Thornton's affair with married motoring magazine editor, Lord Montagu began in 1902 when she worked with him at The Car Illustrated.
But the romance ended in tragedy in 1915 when the couple were travelling to India on the liner, SS Persia.
It was torpedoed and although Lord Montagu survived, Ms Thornton went down with the ship.