Endeavour's lift-off delay sends Twitter blogger home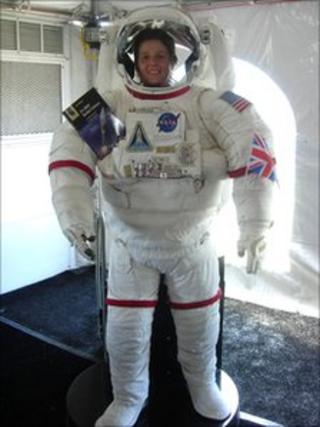 A Hampshire space fan who was among 150 people picked to cover the final launch of space shuttle Endeavour on Twitter is coming home after it was delayed.
Dr Lucy Rogers, of Havant, was one of three people from England due to take part in Nasa's "tweet-up" in Florida - arranged by the website.
Writing on Twitter, she said: "I won't see it. However, I'd have come for fraction of what I've seen and done."
Endeavour's lift-off was postponed twice, on Friday and Monday.
Lift-off was originally delayed for three days on Friday due to a technical problem with an errant heater in one of the three auxiliary power units (APUs).
The next attempt for the US's youngest reusable space shuttle was planned for 2 May - lengthy repairs have now put the next launch window back to 10 May.
'Tweeting tent'
The extra delay meant Dr Rogers had to leave the space centre but she said she made use of some holiday time at Disney World before flying home.
She posted on Twitter: "Left with this thought: Every dream can come true, if you have the courage to release it."
During their time at Nasa, the blogging group spent their time in a "tweeting tent", 3.1 miles (4.9 km) away from the launch pad where they were able to wave at the crew as they drove by on the way to launch pad.
The space enthusiasts have taken part in behind-the-scenes tours, talks and question-and-answer sessions with astronauts, senior Nasa scientists and engineers.
In mid-March Nasa invited tweeters to apply for the once-in-a-lifetime opportunity to tweet from Endeavour's final launch.
They received 4,100 registrations in 24 hours from which 150 tweeters were picked at random.
They had been due to tweet to more than 3.7m combined followers.