'Fraud' claim after Eastleigh Lib Dem candidate's win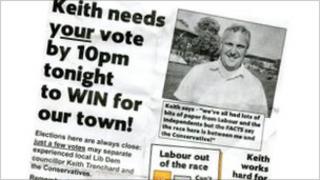 An independent candidate has accused the Liberal Democrats of "fraud and deception" in Eastleigh, Hampshire.
Andy Moore, who had defected from the party, lost his Eastleigh Central seat of 4 years to the Lib Dems.
He has complained about a leaflet which said Lib Dem candidate Keith Trenchard was an "experienced councillor" when he had not been a councillor before.
Eastleigh Lib Dem leader Keith House said it was a "mistake" but not responsible for Mr Moore's defeat.
He said: "Frankly, elections don't turn on one word in a campaign.
"It was one word out of place, out of over 100 leaflets produced - clearly it was a one-word mistake. Keith Trenchard won a stunning victory."
'Unfair advantage'
Mr Moore, who defected from the Lib Dems over its policies on tuition fees, said he had reported the matter to the police and wanted a re-run of the election.
He polled 378 votes in the ward while Mr Trenchard received 1,195 votes.
Mr Moore said: "People vote for people who are councillors. This is an unfair advantage and a pack of lies."
He claimed the leaflet was still being distributed to some voters at 1900 BST on Thursday, despite him formally raising concerns at 1100 BST.
The leaflet said: "Keith needs your vote by 10pm tonight to win for our town.
"Elections here are always close; just a few votes may separate experienced local Lib Dem councillor Keith Trenchards and the Conservatives.
"Remember it's a two horse race."
The Lib Dems won a clean sweep of seats on Eastleigh Borough Council, taking one seat from Labour and two from independents.
Hampshire Police confirmed it had received a complaint following the council elections and was investigating.