School holiday dates limit New Forest Show for children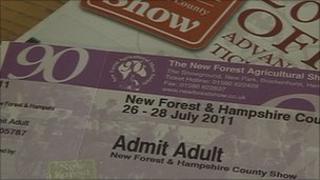 A later-than-usual start to school holidays means Hampshire children could miss the first two days of the New Forest Show.
Hampshire and Isle of Wight schools will break up on Wednesday 27 July, later than most other counties.
Parent Debbie Allan said she was "very upset and disappointed" she could not take her six-year-old son to the annual countryside event for three days.
Show organisers insist it will not have a major impact on ticket sales.
'Terrible shame'
Up to 95,000 people attend the New Forest Show each year. Around 17% of ticket sales are from children and families.
It traditionally runs from the Tuesday until the Thursday in the last week in July, normally the first week of the school holidays.
This is believed to be the first year the school term overlaps with the show dates.
Most other counties, including neighbouring Dorset and Wiltshire, end their terms the previous week.
Ms Allan said: "I think it's a terrible shame. We've been going for 25 years, we go as a family for three days and we really enjoy it.
"I don't think it should have happened - it brings in so much money for the whole county and businesses might suffer."
Show secretary Denis Dooley said: "I can't see it being a major impact on the finances of the show. Everyone can still come on the Thursday."
He insisted it was "an opportunity rather than a negative" as they would try to attract school parties to the show.
Hampshire County Council said the holiday dates were set on 12 March 2009 and publicised to schools and parents.
In a statement, it said: "It is very rare the summer term dates coincide with the New Forest Show however the [term] dates do vary from year to year.
"When planning the academic year we have to take a number of factors into account including our statutory duty to ensure the school year consists of 195 days and the planning in of all the other holiday dates and public examinations."