Queen Alexandra Hospital parking charges to rise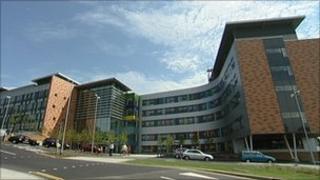 Parking fees at Portsmouth's Queen Alexandra Hospital are being increased - the second rise in seven months.
Fees went up last November and will rise again from June with the charge for up to an hour rising 10p to £1.60.
Up to two hours will also increase by 10p to £2.60 while an all day charge will rise from £15 to £15.75.
The hospital said it has no control over charges as the car parks are managed by Carillion as part of a Private Finance Initiative deal.
Carillion said under the agreement it can increase charges annually in line with the Retail Price Index (RPI) - which stood at 5.3% in March.
'Special rates'
But the firm said it had not raised fees at all between 2004 and 2010.
In a statement the company added: "The changes that take effect on 1st June 2011 reflect an increase that is still lower than RPI and, rather than coming into effect on 1st April, have been delayed until June.
"Those with long-term or concentrated parking needs will continue to benefit from special rates under a validation scheme since those who need the hospital's services remain both Carillion's and the trust's absolute priority."
It also said the charges remained in line with or below council car parks in the area and other general hospitals.
The firm has declined to reveal how much money it makes from the charges.
Jock McLees, from Portsmouth LINK, which speaks for patients, said it was an "insensitive" rise coming behind last year's increase.
He added: "It is bad news for patients.
"Our position is that parking at NHS sites should be free.
"But failing that, you can't compare going to the hospital for a vital appointment or making an important visit to choosing to pay to park for a walk on the beach."
Peter Mellor, company secretary at Portsmouth Hospitals NHS Trust, said "Whilst the trust recognises Carillion's contractual right to increase car parking charges..., we are very disappointed that these increased charges are to be introduced.
"It is important to note that any patient or visitor who might need to attend the hospital or visit relatives over a long period of time, can still benefit from a reduced parking charge rate."