Tricorn Centre recorded in 1986 Domesday project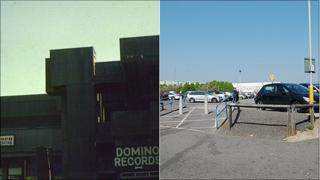 A poem about Portsmouth's Tricorn Centre included in a BBC social history project in 1986, is among the entries being revisited to explore how the area has changed.
A million volunteers took part in Domesday to record a snapshot of everyday life across the UK.
The concrete Tricorn shopping centre was a landmark in the Portsmouth at the time, but was widely criticised as an eyesore.
Thirteen-year-old Portsmouth High School pupils Vanessa Gisslegard and Claire Sweeney, chose to enter a poem about it.
It is one of the Domesday entries which can now be explored online with users able to view pictures and update the information.
Now living in Sweden and the US, Vanessa and Claire have memories of the centre and can recall taking part in Domesday at school.
Vanessa said: "The Tricorn Centre was an ugly, smelly building with lots of shadows and I was always afraid when I walked through there."
Claire said: "In a city with much history and beautiful old buildings and ships, the Tricorn stood out as the modern (ish) ugly, grey eyesore. It looked like something out of Eastern Europe, and not the pretty bit."
They were not alone in their criticism. Prince Charles described the Tricorn as "a mildewed lump of elephant droppings".
Brutalist architecture
Opened in 1966,it was one of the first post-war shopping centres to incorporate a multi-storey car-park.
Despite being initially successful, shops gradually became unused and the centre became run-down.
However, before its demolition in 2004, it was hailed as an example of 1960s Brutalist architecture.
Its architect Owen Luder, said: "Architects in that exciting decade faced with new challenges produced new exciting solutions."
Hundreds of people turned out to see the start of the demolition work in 2004.
Only one part of concrete still remains as part of a footbridge - the site is now a car park on the edge of Portsmouth city centre.
Other records of Portsmouth entered into the Domesday project at the time include the Portsmouth South by-election: "In the 1984 by-election Portsmouth South surprised many by electing Mike Hancock (SDP)," and the Portsmouth Hard area: "There are lots of restaurants and cafes such as the Wimpy and Le Bon Appetit".