Meeting held over children's heart unit's future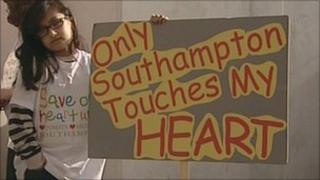 Opponents of a proposal to close the children's heart surgery unit at Southampton General Hospital have voiced their views at a public meeting.
The event, at the Novotel Hotel on Wednesday evening follows an NHS review of children's heart services.
The NHS review looked at 11 units across England amid concerns expertise was being spread too thinly.
It published four options, three of which would see the permanent closure of the hospital's unit.
Almost 50,000 people have so far signed a petition to save the service. A public consultation runs until 1 July.
Decision in autumn
In total there are about 30 child heart surgeons across England who carry out 3,600 operations each year on children in England and Wales.
The NHS review, set up by the National Specialised Commissioning Group, which is in charge of child heart units, recommended a minimum of four surgeons per heart surgery unit, which means at least four hospitals will stop doing operations.
Another 15 events are being held around the country and a final decision on the public consultation will be made in the autumn.
The four options are to keep units open at either:
Newcastle, Liverpool, Leicester, Birmingham, Bristol plus two in London
Newcastle, Liverpool, Birmingham, Bristol, Southampton plus two in London
Newcastle, Liverpool, Birmingham, Bristol plus two in London
Leeds, Liverpool, Bristol, Birmingham plus two in London