Abandoned puppy recovers after shoelace grows into neck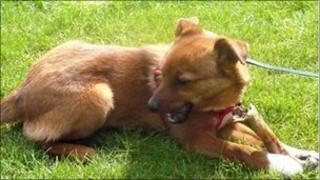 A five month old puppy is recovering after being found abandoned with a shoelace tied around its neck, cutting in as the dog grew.
Basil was taken to a rescue home after being found under a bush in Southampton and given urgent medical treatment for the neck infection.
The shoelace cut a 2cm (0.8in) gash in the skin, leaving a scar.
Basil will have to wear a harness rather than a normal dog collar as a result of his injuries.
Kelly Brooks, manager of Blue Cross Animal Welfare Centre, said Basil has recovered well and was "friendly and so active".
The centre named him Basil because he looked like a fox. The puppy is a terrier-type with traces of chihuahua.
Ms Brooks said: "Somebody had actually tied a shoelace around his neck.
"It must must have been a number of months ago. As he grew it became a massive indenture and wound right around his neck that became infected."