Vince Cable jeered at Portsmouth ferry terminal opening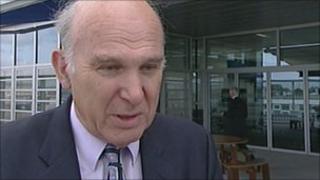 Business Secretary Vince Cable was jeered by protesters as he arrived to open a new international passenger terminal at Portsmouth port.
Between 20 and 30 people were demonstrating against government cuts.
The new building is part of a £16.5m investment in new passenger facilities at the Hampshire port.
Mr Cable said the 2,700sq m (29,000sq ft) terminal was "a great success story and a symbol of what Portsmouth is trying to achieve".
One of the protesters, Jon Woods of the Unison union, said: "We don't think government ministers should be allowed to go around the country without being told people are suffering in a major way."
Referring to the protests, Mr Cable said: "You accept that what the government is doing is controversial but I believe very deeply the country needs a strong government and parties working together."
The terminal opened to passengers last month, replacing a building from the 1970s.
Made of glass and steel, the light and spacious terminal is claimed to be one of the most environmentally-friendly public buildings in the UK.
More than two million people a year are expected to use the city council-owned terminal.