Southampton and Portsmouth on Olympic torch relay route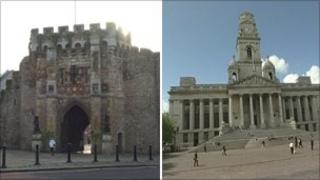 The Olympic torch will pass though both Portsmouth and Southampton on its 70-day tour around the UK in the lead up to the 2012 Games.
The London Organising Committee of the Olympic Games (Locog) has announced all overnight and island stops.
On 14 July 2012, the torch will travel from Bournemouth to Southampton before returning to Portsmouth from the Channel Islands on 15 July.
The Isle of Wight has been told it will also be included in the tour.
While it has not been included in the list of overnight stops, MP Andrew Turner said he had been given "firm assurances" that it will be included and an official announcement will be made later in the year.
"I am very pleased to be able to let islanders know that we will all have the opportunity to see the Olympic Torch on the island," he added.
'Once in a lifetime'
Southampton City Council leader Royston Smith said: "It's a fantastic, once-in-a-lifetime opportunity for the people of Southampton to really be part of the Olympics."
He insisted the cost of staging of the event could be justified, despite the council currently cutting spending.
Mr Smith said: "We have to prioritise, what is important is driving the economy. An evening like this, with people using the night-time economy in Southampton, will be worth the investment."
In Portsmouth, council leader Gerald Vernon-Jackson also welcomed the news.
He said: "It's wonderful, a great thing for the city. We're a city that loves sport so it will be a wake-up call to tell people the Olympics are coming to London and that everyone is involved."
Mr Vernon-Jackson said concerns about the security issues of such a high-profile event could be dealt with.
He said: "We are a naval base so security is a big issue - we do it properly and we'll continue to do it for events like this."
The lunchtime stops on the tour will be announced later this year and full details of the route will be revealed in 2012.