Detectives use aerial images in Damien Nettles search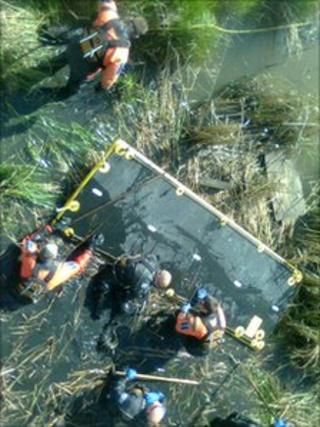 Specialist teams are using aerial images of an area of marsh land in the search for a teenager who went missing on the Isle of Wight 15 years ago.
A murder investigation has started into the disappearance of Damien Nettles, who was last seen after a night out in West Cowes on 2 November 1996, aged 16.
Specialist teams have been using rafts to comb the water and huge reed beds.
Four people from the island and one from Kent were arrested on Tuesday on suspicion of murder.
They are currently on police bail.
The disappearance of the 16-year-old is one of the island's most high-profile missing persons cases.
Detectives are believed to be studying aerial photographs of the site taken by the council in 1992 which could be used to highlight any subsequent signs of changes or disturbance in the ground.
'Inch-by-inch'
Officers were led to the marsh land, near the Newport-Cowes footpath in Newport's Stag Lane area, following new information.
Det Ch Insp Dave Powell, who is leading the search, said: "The water is not very deep but underneath that there is an awful lot of silt.
"The nature of the search requires we do a fingertip inch-by-inch search of this ground.
"It's going to take a number of days so we have got a number of underwater search trained teams to do that."
At the time the teenager lived with his family in Woodvale Road, Gurnard, but they have since moved to Texas, USA.
The last confirmed sighting of Damien was on CCTV at Yorkie's fish and chip shop in Cowes High Street.
The arrested men from the Isle of Wight are a 50-year-old from Newport, a 48-year-old from Sandown, a 44-year-old from Cowes and a 37-year-old from Ryde.
A 39-year-old man from Gravesend, Kent, was also questioned.